Home
»
CO2 pH Balance Unit
CO2 pH Balance Unit
The Neutralizer is designed to treat caustic (alkaline) water using CO2 gas, specifically targeted at the construction industry to eliminate hazardous chemicals from sites for safety and environmental protection.
The injection of CO2 into water creates carbonic acid which neutralizes the alkaline waters for discharge off-site or to the sewer network. The unit has proportional flow control so only uses gas when the effluent is out of specification. Using in-line mixing technology, operates on a continuous flow basis and the fully automated system requires little interaction other than changing gas bottles. The unit has FLT ports and lifting eyes for manoeuvrability.
CAPACITY: Single pump feed – Max. Flow 5.5 l/s (20m³/hour).
GAS SUPPLY: Bottled CO2 (No dip tube) or approved storage tank with BSH valve fitting.
ELECTRICAL FEED: 110V as standard – 240V optional at point of order.
Weight: 800 kg.
Length: 2875 mm.
Width: 1000 mm.
Height: 1300 mm.
Critical Components
2" vortex (or similar pump) – 5 l/s on pump duty chart at point of entry.
Static mixer – mixes gas and influent.
USM pH controller – monitors the pH and regulates the gas valve accordingly.
Gas supply regulation – allows CO2 gas pressure to be regulated to optimise gas usage for different effluent strengths.
USI Magflow – records the flow and pH levels through the system with downloadable data to evidence compliance.
GPRS transmitter – allows data to be viewed remotely.
Beacons – indicates the status of the unit and gas supply.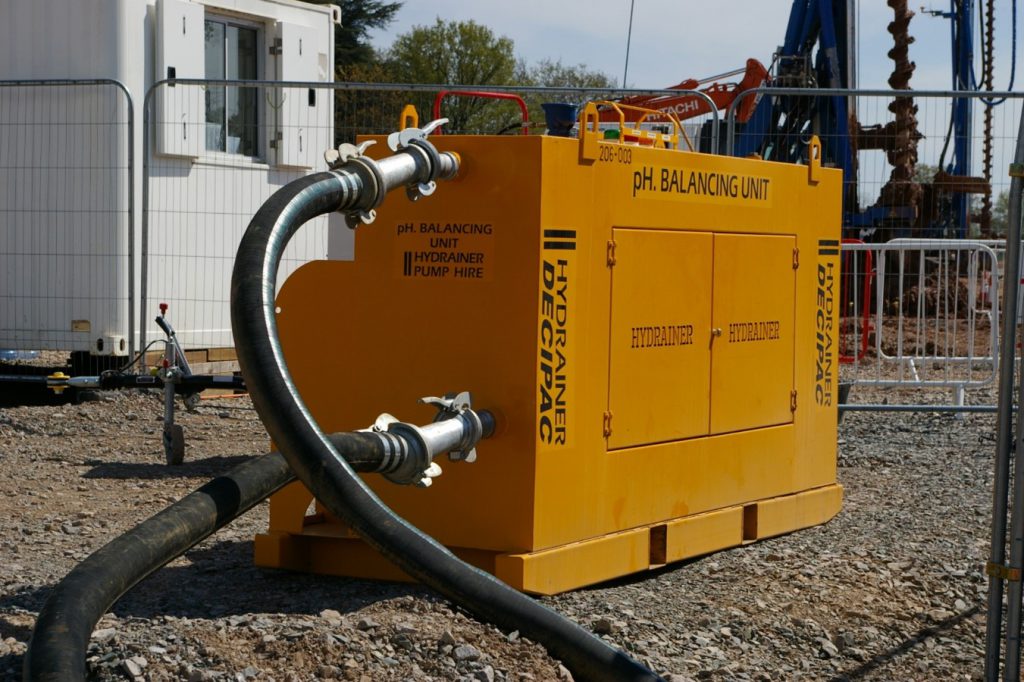 Typical Installation
The unit can be linked with either camlocks or Bauer fittings.

Please Note: A settlement tank is required if the water is charged with sediment. This is for both legal compliance and pH probe protection.